Horizontal Drain Water Heat Recovery (DWHR) System for main drain lines
The Ecodrain B1000 is the only drain water heat recovery system specificially designed for main drain lines. It is the ideal solution for saving energy in single story homes, homes built on crawl spaces and manufactured homes. It conforms to the same CSA B55 standard as the vertical DWHR systems which are eligible for energy codes. The B1000 offers the same benefits in homes with no vertical space for a heat exchanger and without requiring a costly and complicated drain pump.
In homes with multiple showers draining on multiple vertical drain stacks, the B1000 can simplify installation by using a single horizontal drain water heat recovery system on the main drain line that collects water from all the vertical stacks.
The B1000 has been tested under the same conditions as the vertical heat exchangers, except at a different slope.
Key Features:
Heat exchanger on the outside of a drain line means no greater risk of fouling than a regular drain line, even when connected to main drains carrying sewer water.
Sleek heat exchanger sits only on the bottom of pipe and thus limits the amount of copper used in the device.
Features ecodrain turbulator which results in high performance for a horizontal main drain line heat exchanger with minimal pressure loss.
Note: The B1000 is a product designed for professionals. It is intended primarily for new construction. It is recommended that it be installed in such a way that it remains accessible such as in a crawl space, on the ceiling of a basement or in trench. Please contact us for futher information about how to incorporate this product into a new home or building.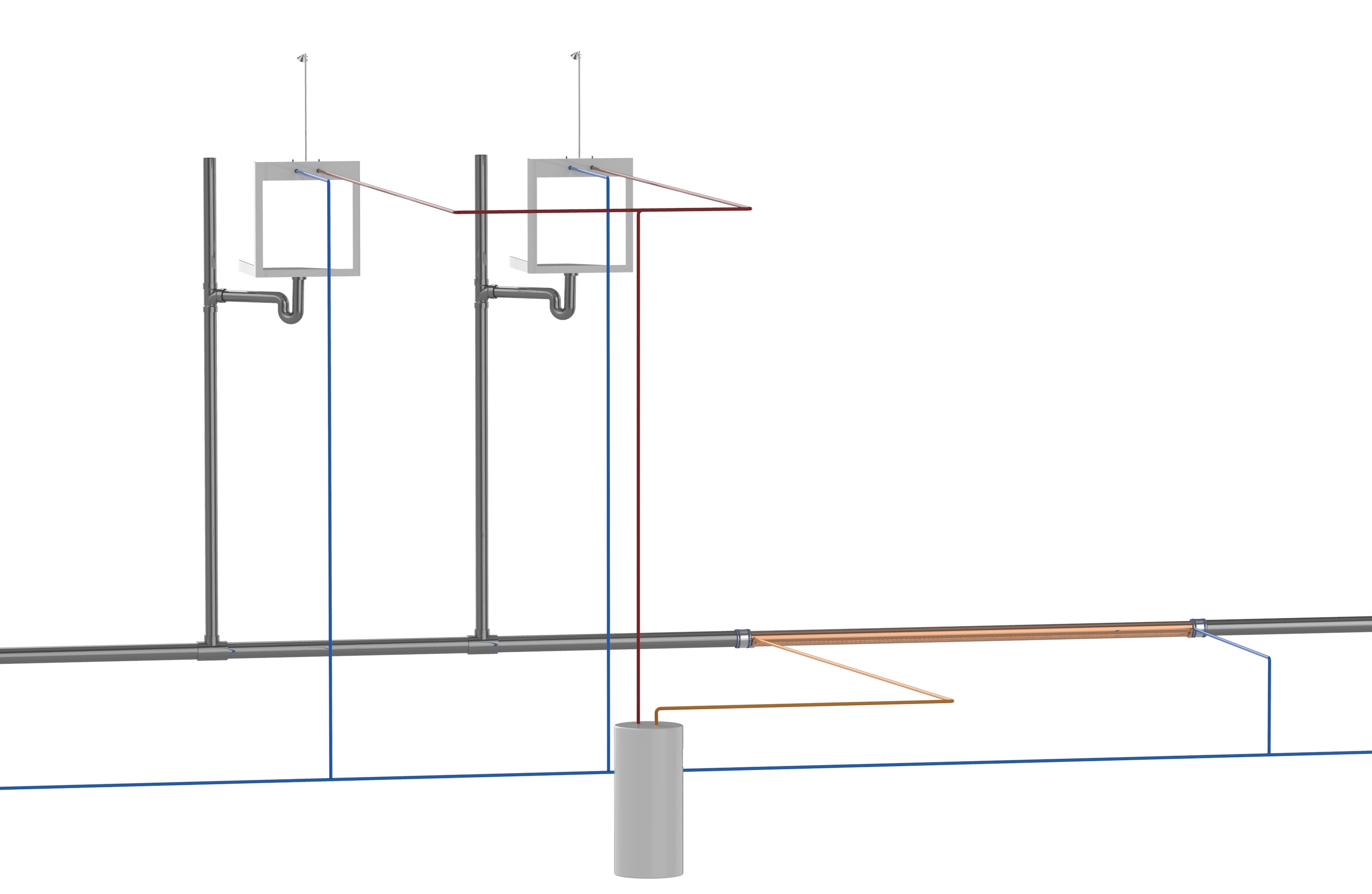 Waste Water Geothermal - Heat Pump Partner
Using drain water heat recovery as a geothermal ground source can boost the efficiency of a heat pump and reduce the length of geothermal ground loops. Multiple B1000 units can be connected in series to result in high heat recovery. In closed loops systems where the heat recovery loop does not carry potable water, the B1000 units can be buried beneath a slab or in the ground. Contact us for more information about this application.